Work-Study
Applied Degree in Software Engineering
» Global-Ready Skills in 12 months
» 3 Years International Work Experience
» Debt-free-degree
Reasons Why You Should Consider Our Hon's Degree Program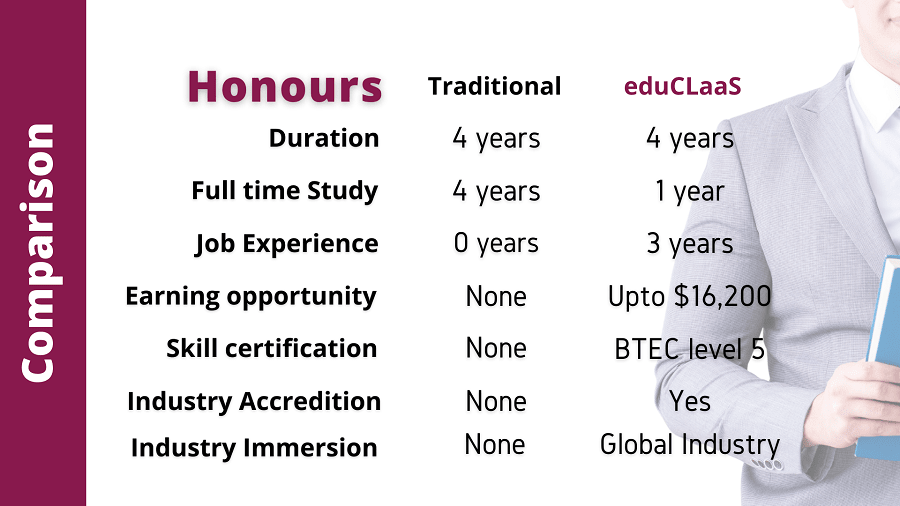 Our learners start their work-study journey with an intensive 12-month bootcamp, where they check into our global virtual campus daily on weekdays for over 2000 hours of guided learning and mentoring from industry practitioners. On completion of the 12-month bootcamp, the learner will be matched with our pool of international employers to study part time while starting work full time as a paid apprentice, where they will be paid US$300-US$600 per month. Our graduates acquire not just deep domain skills but also broad 21st century competencies, including advanced communication and collaborative skills for working in an international cross culture environment. With global ready skills and and 3 years of full-time working experience under their belt, we expect our learners to earn double the salary of graduates from conventional universities. Our work-study degree delivers superior return on education investment where we expect 80% of the cohort to earn more than the tuition fee paid, even before graduation.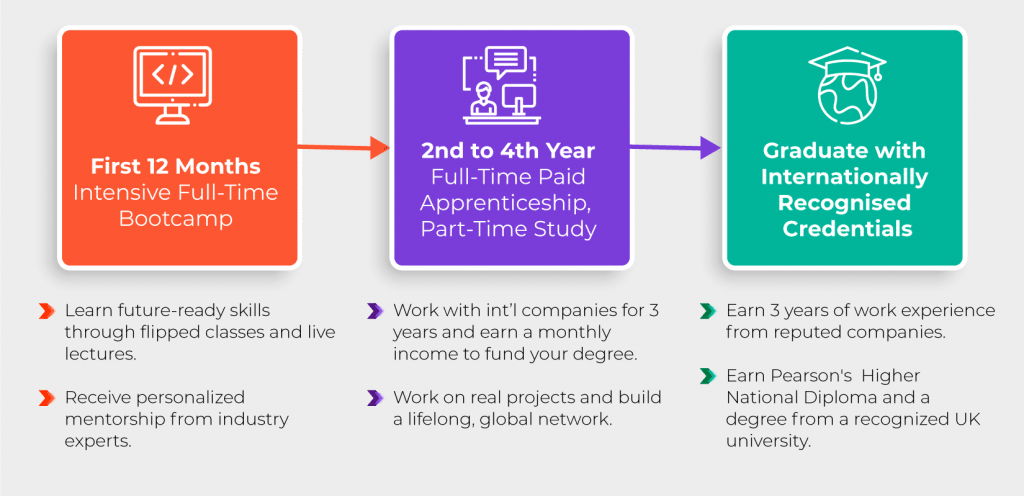 Applied Work-Study Degrees
The Work-Study Software Engineering course is a part of our innovative Work-Study degree program that enables you to acquire deep work-related skills and get a 3 years' work experience before graduation. We aim that this approach will make you future-ready and aid in bridging the gap between fresh graduates and tech companies globally.
Entry Requirements
Entry Requirements
2 AL passes including a Mathematics based subject or Equivalent Diploma or Level 3 Certificate conducted in English
    AND
OL Minimum 'C' Grade for English and Mathematics
    OR
Minimum CGPA 4 in HSC and SSC with Minimum 'A' in Mathematics and English
IELTS 5.5 or it's equivalent or candidate who has been completed school education in English as a medium of instruction
Learning
Blended Learning Journey
(1800 Hours)
1st Year: Full-Time Coding Bootcamp
Expect an intensive and full-time bootcamp (5 days a week, 8 hours a day) and over 2,000 hours of guided learning and mentoring from industry experts.
Learn key aspects from our exceptional training faculty & staff
Front-end development
Back-end web development
Databases
Project management
You'll undergo different blending learning exercises such as peer-to-peer learning, online brainstorming, in-depth lectures, interactive assignments and projects, and more. You'll also touch the base of emerging technologies such as Data Science, Artificial Intelligence and Machine Learning.
Within the first 6 months, you'll acquire skills equivalent to a Full Stack Web Developer. By the end of the 12 months, you're ready to embark on your career as a Full Stack Software Developer.
2nd - 4th Year: Industry Apprenticeship
Upon completion of the coding bootcamp, embark on the start of your career with our Industry Apprenticeship.
We have partnered with 2000+ enterprises locally and internationally; you will be matched and placed into interviews and get hired to work full-time as a Full Stack Software Developer apprentice.
During your apprenticeship
Work full-time and study part-time
Collaborate and work with international colleagues
Work on live projects
Put your technical knowledge into practice
This full-time apprenticeship will not require you to compromise on your studies or wonder how to study effectively while working full time. We have formulated our program in a manner that allows you work full-time and study part-time. You can learn the basics in class and apply them in your workplace, accelerating your learning growth.
By the end of  your 4th year, you'll become an expert full stack software developer who can tackle unique and unexpected technical challenges and build advanced applications. You'll be equipped with future-ready skills that employers are demanding for in addition to your 3 years of work experience, which will give you a competitive edge over others upon graduation.
100 campuses across Asia
Accredited by the Singapore government as a CET Centre (Continuing Education and Training)
EduTrust certified  by SkillsFuture Singapore & Committee for Private Education (CPE)
Internationally accredited by Pearson UK and Scottish Qualifications Authority (SQA)
Microsoft Global Learning Partner of the Year Award (Finalist)​​

Pearson's BTEC College of the Year 2019 Award for Asia​​​

dun&bradstreet's Business Eminence Award 2020

Flame Innovation Award 2019 by SkillsFuture Singapore

APAC CIO Outlook's Top 10 Provider of Education Tech Solution​
Collaboration with over 2000+ Employers